Prague is a modern day medieval city with a rich history and exciting nightlife, making it a popular destination for tourists. There are cobblestone streets, medieval houses, and incredible food to sample.
So what should you be spending your time (and money) on when visiting Prague? Let's find out.
Take a free walking tour
We always like to recommend a walking tour when you're visiting a new city, because they're often free and will help you orient yourself while learning a little history at the same time. Head to the astronomical clock in the Old Town Square, where most walking tours meet, and choose from the many free tours on offer.
Prague Castle
Prague Castle has a number of sections to visit, including St. Vitus Cathedral, The Story of Prague Castle, and the Powder Tower among others. You can pick and choose which of the sights you want to see, but the most famous one is St. Vitus Cathedral – so if you don't have much time, make sure you at least visit this.
Petrín Park
If the heights get too much for you when exploring the castle, then Petrín Park is where you can head to next. The city's biggest park offers impressive views of Prague, and features a maze and a lookout tower that takes 299 steps to get to the top of. Be prepared for some strenuous walking when you visit this park, so it's probably best to avoid it if you have health concerns.
Keep an eye out for the local wildlife.
The John Lennon Wall
The John Lennon Wall is a must-see when visiting Prague. At the end of Communism in the 80s, John Lennon lyrics were graffitied on this wall to represent love and peace, and you're allowed to write or paint on it as well!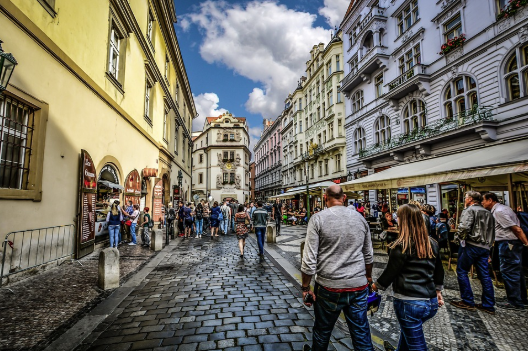 The waterfront
In Kampa, you can grab a drink or some food while you sit and relax and enjoy the view, or walk across the famous Charles Bridge. Have your camera ready as this is a very picturesque area.
The Old Town Square
There are many attractions to check out in The Old Town Square, including the Astronomical Clock, with its hourly chime, and the Tyn and St. Nicholas churches. You can also explore the catacombs under the Old Town Hall, which were the first level of the medieval houses that now offer an exhibit showcasing medieval life.
It's easy to see why Prague is such a favourite destination for tourists from all over the world, and we know you're going to fall in love this incredible city too. Enjoy!